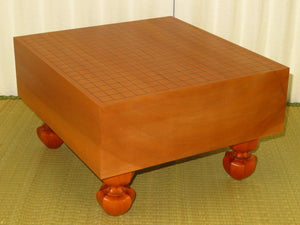 It is Spring Cleaning time at the warehouse, and we are faced with the choice of whether or not to discard some Go Boards. We'd rather find homes for them, and we hope to crowd-source the cost of shipping with donations on our Gift-A-Goban page.

If you'd like a free Goban, and we have any in stock, simply select from one of the Thickness options. Then complete checkout with your shipping info. 

The different Thickness options refer to the thickness of the board itself. Apart from the 3-5cm table boards, thicker boards will come with Legs that add about 12cm to the total height.

The default delivery method for boards up to 14cm thick is Surface (Japan Post Seamail), which takes up to 3 months in transit. Boards 14cm+ must go Airmail (FedEx International Priority) which only takes 1-2 weeks. Accordingly, if you select one of these very thick boards, you will be asked to bear part of that shipping cost. 
Please note that the photo is a placeholder, and not the actual item.

April 5th Update: Like a frantic Easter-Egg Hunt, we sold out of 18 free boards in a matter of hours. If we get enough donations to cover those Shipping costs, we will add more boards to this program. In retrospect, we should only have made the free boards available once Shipping costs were covered by donations (kind of like a Kickstarter), but there's a first time for everything. You can view the donation progress on our Gift-A-Goban page, or read about the project on our Blog.